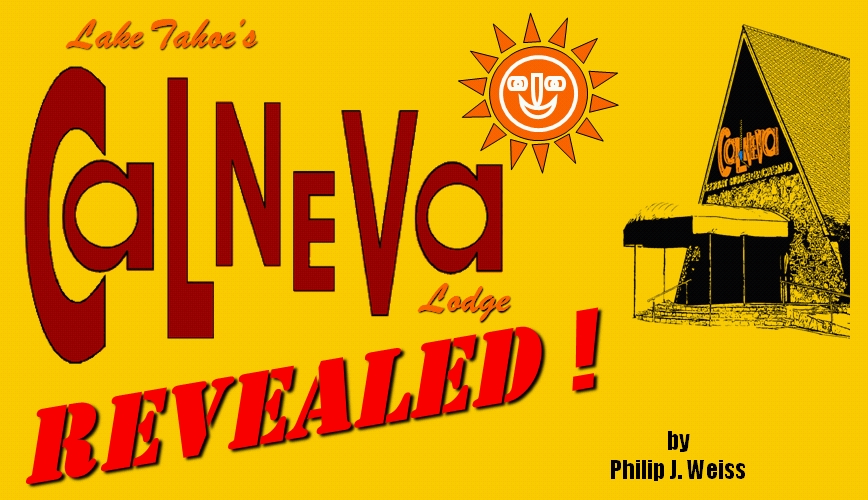 Fake "Frank Sinatra" Cal-Neva Lodge ashtrays are being sold on e-Bay, so be careful before you buy! Here is an article just written about how to detect the replicas: CNL Ashtray Deception
The current Cal-Neva Resort and Spa sits on the border between California and Nevada on a bluff overlooking north Lake Tahoe. It has been in operation since 1926 and represents the oldest, continually-licensed casino in the United States. The Lodge, as it was formerly called, along with its renowned underground tunnels, was once owned by Frank Sinatra, yet the Sinatra years represent only a small portion of an extensive history that largely has been forgotten - that is, until now!
| | | |
| --- | --- | --- |
| "Cal-Neva Revealed" is temporarily SOLD_OUT. Check back in March 2010 for more copies. It is a 323 page book that chronicles each year of the property's historic existence. Meticulously researched, the author presents factual information that discusses how each owner of the Lodge (there have been more than a dozen owners) came to own this unique property and what happened during their ownership years. Various tales involve get-rich-quick schemes, chronicles of the rich and famous, divorce, fraud, and even murder. | | Also documented is a compendium of entertainers who were contracted to perform. As a truly complete historical reference, this work presents a chapter on dating relics and artifacts associated with the Lodge throughout its expansive 80-year history ... an invaluable resource! |
Some Amazing Facts About Cal-Neva Lodge:

The founder and first owner died of depression in New Zealand after losing nearly everything he owned in the Stock Market Crash of 1929 (commonly referred to as "Black Tuesday")!

The second owner had a father that committed suicide because of reported mental illness. The son would also commit suicide with a shotgun blast to the mouth nearly 60 years after his fathers tragic death.

Clara Bow, a famous silent film star of the 20's and 30's, lost $13,900 gambling at the height of the Great Depression. It was a epic scandal involving Will Rogers that made national headlines in 1930.

The Cal-Neva was the site of multiple Prohibition raids which briefly closed the "speak-easy" operating there until liquor was legalized in 1933.

Baby Face Nelson, a psychotic and ruthless American gangster of the early 1930's, shot and killed a man who was set to testify at a Cal-Neva owners fraud trial in 1934.

The Lodge burned to the ground on the night of May 16th, 1937 and was declared a total loss. The then current owners hired the prior owner who erected a new structure in 40 days using 100 men (not 30 days and 500 men as once thought).

There are good reasons to suggest that the fire was deliberately set.

The rebuilt Cal-Neva Lodge was the largest operating casino in the country when it opened in 1937!

Judy Garland, who first performed at the Lodge in 1935 at age 13, was actually discovered there by a talent agent because she left a hatbox behind the stage and went back to retrieve it. Upon returning to Calneva, she met Al Rosen who eventually convinced Louis B. Mayer, head of M-GM, to audition her. See was immediately signed to a long-term contract without even making a screen test in October 1935.

It is rumored that Marilyn Monroe almost over-dosed in Cabin #3 a week before she was found dead in her own apartment in Los Angeles.

Although Sinatra had his gaming license for the Cal-Neva revoked in 1963, still owned the property until 1968!

A terrorist extortion plot claimed that vials of the Bubonic Plague would be released in the casino if demands were not met in 1972!

Plus dozens of other secrets Revealed !
Why you must read this book:

Read stories that capture the events and describe the people that give this famous (yet mostly infamous) place its unique character

See never before published photographs of the early lodge (before the fire)

View original artwork of key people throughout Cal-Neva's long history

Review a complete list of celebrities and the dates they performed

Peruse a list of Cal-Neva memorabilia complete with estimated values
---
This book is suitable for teachers of Nevada and California history, Nevada gambling and casino historians, casino memorabilia collectors, Western history buffs, Lake Tahoe residents, and others interested in our uniquely American past. Especially if you are planning a trip to Lake Tahoe, this historical reference will be an invaluable guide as you explore all of the nooks-and-crannies of the historic Cal-Neva Lodge.
Books are available for purchase for $16.95 through this website by e-mailing the author at: phil.weiss@calnevarevealed.com. Shipping will be media rate for an additional $3.05 ($20.00 total). Paypal is accepted!! Also check e-Bay for listings! Thank you for your patronage. All material on this website is copyrighted by Philip J. Weiss, 2008. Mr. Weiss is in no way associated or affiliated with Cal-Neva Resort and Spa, www.calnevaresort.com, nor the current ownership. To read more about this book, Cal-Neva Lodge and/or the author click on the links below:
About the Author Cal-Neva Memorabilia Historic Photographs Current Photos
Events Special Promotions Sample Text
This website was last updated on January 18th, 2010